Writings about lick pussy
(1)
1 of 1
Submitted by LickMe on

February 27, 2015 (3 years ago)


Posted in Story: True Story, Taglish | Categories: Erotic Couplings, Fetish, Taboo, Mature, Romance, Toys and Masturbation | Tags: sex, cunt, lick pussy, sexual excitement, office mate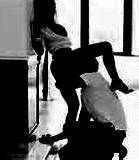 *** vwam 022715 2330-0008
©2015 LickMe. This blog/story may not be reproduced in any manner, without the expressed permission of the author by any means available

After 10 years of being away, umuwi ako sa Pilipinas... And decided to stay with my sis sa province.
I was torn between being happy, kasi naka uwi na nga after a long time, and sad kasi I left my bf and chose to come home.

Di nag tagal, nawala ang pangungulila ko sa bf ko when I met Ray, office mate ng sister ko.

My sister introduced Ray to me during their companys party.
Mestizo si Ray, matangkad at gwapo. Sa tingin pa lang, alam ko masarap mag romansa ito.
Di ako masyadong makatingin kay Ray kasi ayaw ko makita niya na I find him sexually attractive.

Nagkahiwalay kami ng sis ko sa party and I was looking for her when my phone rang. It was an unfamiliar number. Sinagot ko, it was my sister. I asked her kaninong number ginamit niya, it was from Ray. Nasa kabilang side pala sila but after awhile they found me ..

After another hour, my sister and I decided to go home.

Before I slept that night, nag beeped phone ko. There was a message.
"Hello.. gising ka pa?"..
I immediately checked my Received calls and I was able to confirm, si Ray nga nag send ng text.
"Are u texting my sister?" .. sagot ko..
"No.. ikaw A _ _ _ ." , text back niya.

Shit, ewan ko ba.. kinilig ako when I read that text .. to th...