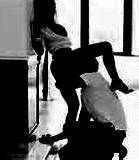 Ray
Posted in
Story: True Story, Taglish · Categories: Erotic Couplings, Fetish, Taboo, Mature, Romance, Toys and Masturbation · Tags: sex, cunt, lick pussy, sexual excitement, office mate
Date: February 27, 2015 (3 years ago)
---
*** vwam 022715 2330-0008
©2015 LickMe. This blog/story may not be reproduced in any manner, without the expressed permission of the author by any means available

After 10 years of being away, umuwi ako sa Pilipinas... And decided to stay with my sis sa province.
I was torn between being happy, kasi naka uwi na nga after a long time, and sad kasi I left my bf and chose to come home.

Di nag tagal, nawala ang pangungulila ko sa bf ko when I met Ray, office mate ng sister ko.

My sister introduced Ray to me during their companys party.
Mestizo si Ray, matangkad at gwapo. Sa tingin pa lang, alam ko masarap mag romansa ito.
Di ako masyadong makatingin kay Ray kasi ayaw ko makita niya na I find him sexually attractive.

Nagkahiwalay kami ng sis ko sa party and I was looking for her when my phone rang. It was an unfamiliar number. Sinagot ko, it was my sister. I asked her kaninong number ginamit niya, it was from Ray. Nasa kabilang side pala sila but after awhile they found me ..

After another hour, my sister and I decided to go home.

Before I slept that night, nag beeped phone ko. There was a message.
"Hello.. gising ka pa?"..
I immediately checked my Received calls and I was able to confirm, si Ray nga nag send ng text.
"Are u texting my sister?" .. sagot ko..
"No.. ikaw A _ _ _ ." , text back niya.

Shit, ewan ko ba.. kinilig ako when I read that text .. to the point na nag masturbate ako while we were exchanging messages. We were texting until morning na. We realized na we were both so attracted to each other. Since that night, we kept on communicating .. or rather, sex texting...

A week after that party, my sisters office mates decided to go out for a videoke ... and my sister wanted me to join, which I did.
Ray came late and when he entered the room, kinilig ako, lalo na when he sat next to me.. shit, i could feel yung init ng katawan niya. Ang lakas ng sexual tension between us. Kung wala lang mga office mates niya at sister ko, tinulak ko na si Ray at inupuan mukha niya so he could lick all the juice sa cunt ko.. I was freaking wet the whole time.

Ang ingay na ng mga ka office mates ng sis ko, kantahan, tawanan ...
And then suddenly my phone beeped and it was Ray ..
"No panties?..."
Sagot ko, "no..."
"Gusto ko dilaan puke mo... "
"Fuck! Yesss... gusto ko rin.. basa na ako..."

Di ako mapakali, lumabas ako sa videoke room, and went up to the 2nd floor para mag restroom.

When I went out and walked along the hallway papunta sa stairs, nakita ko si Ray waiting outside a vacant videoke room..
Hinila niya ako at pumasok kami sa room na yun. The room was dark and my fear of being caught added to my sexual excitement.
Tinulak niya ako sa wall, gilid ng door, lifted my skirt up and started playing with my cunt using his fingers....
"Shit A _ _ _, basang basa ng puke mo.."
"yeahhhh .."
"Sarap mo...."
"Pasok mo daliri mo plssss.."
"Masarap ba ha?! Ito ba gusto mo?!"
"Shit Ray saraappp... yes.. yes.. put more fingers in..."

Bigla siyang lumuhod while nilalaro pa niya pussy ko ..
Biglang napa-ungol ako sa sarap when I felt his tongue ....
"oohhhhhhh fuuckkk... sarap Ray.. yes... eat me moree..."

Pabilis ng pabilis yung daliri niya sa loob ng puke ko .. at parang gutom na gutom si Ray while kinakain niya puke ko..

"Shit bango mo babes...."
"Ray yess.... suck my cunt! Dilaan mo pa ako... "
"Fuck.. yes Ray.. there.. there... tang inaaaaa... saraaapp...."
"Sarap ba?? Ha?? Ito?? Shitttt.. basang basa ka na..."
"Ipasok mo Ray plsssss...fuck, kantutin mo na ako plss ....."
"Noo.... cum in my mouth.. want to drink your cunt juice babe!"

Lalong binilisan niya ang pagpasok labas ng fingers niya sa puke ko at pag dila niya sa basang basa kong puke... Diniin ko lalo ulo niya sa puke ko.. Shit! Ang galing ni Ray kumain!

"Tang ina! Saraapppp... bilisan mo paaa... "
"Oh my god, i am about to cum... shhiitttttt.... moreeeeeeee.. yesss.. fuckkkkk..im cumminnn..."
Shit! Lalong binilasan ni Ray dila niya and I could feel he was trying to drink all my cum...
"Ang sarapp mo babes.. matamis tamis ang cum mo...", sabi ni Ray...

He stood up ...

"Give me your tongue..", sabi ko kay Ray and he did ..
I sucked his tongue so gently ...

Fuck sarap niya...

"Bukas ng umaga punta ka sa planta, kita tayo sa parking.. Gusto kita kantutin sa car ko...."
"Okay.. will go there ..."

Lumabas kami sa room.. nauna ako bumaba..
Pag pasok ko ulit sa videoke room, napa tingin sis ko sabay sabi, "tagal mo..k...
About the Author :
Joined: July 31, 2014 (4 years old)
Writings: 8
Female · Offline
Description:
Are you a man enough to take me to heights? :-)
Suggested writings:
---
Comments